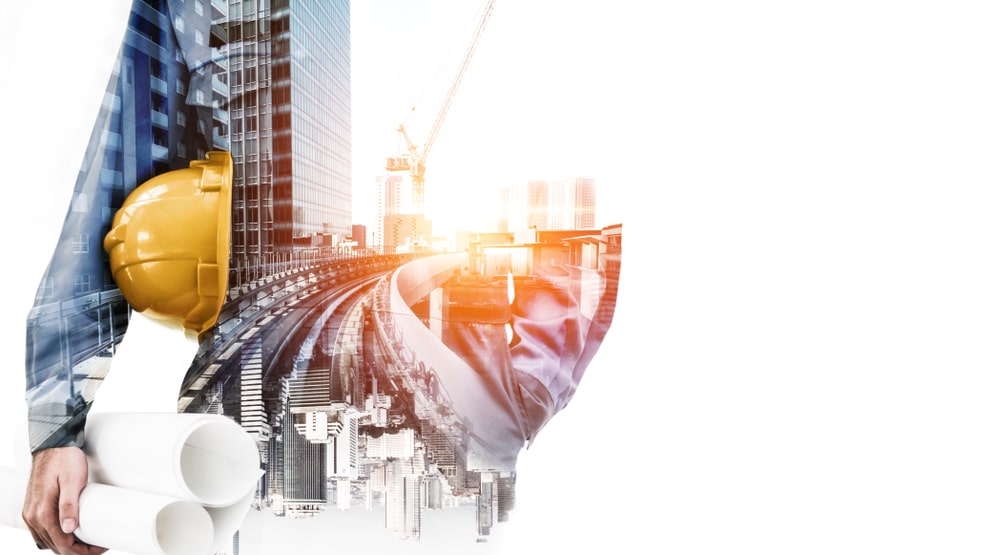 Construction output in the UK fell by 0.8% in May 2021, with the level remaining just slightly above that of its pre-pandemic February 2020 level.
The area which contributed to the monthly decline were new work and repair and maintenance, with anecdotal evidence showing that the adverse weather conditions of April and May were a contributing factor. New work fell by 0.4% and repair and maintenance fell by 1.5% respectively.
In May 2021, the level of construction output was 0.3% above the February 2020 pre-pandemic level, whilst new work was 3.5% below its pre-pandemic February 2020 level. Repair and maintenance was 7.5% above its February 2020 level.
In comparison to the monthly construction fall, construction output grew by 6.3% within the three months to May 2021, this is compared to the previous three-month period, with increases in new work (6.6%) and repair and maintenance (5.8%).
This 6.6% increase n new work in the three months leading to May 2021 was due to growth seen over all sectors, with the largest contributors to this growth were private housing new work and infrastructure which both grew by 7.4% and 9.7% respectively.
The increase in repair and maintenance, 5.8%, in the three months to May 2021 was due to growth in non-housing and private housing repair and maintenance, which grew by 9.0% and 4.7% respectively.
Overall, it is clear to see that construction is gaining, despite this slight decline, due to the adverse weather of the Spring months.
Commenting on the latest construction industry output update from the ONS, Stuart Law, CEO of the Assetz group, said: "The slight slowdown in construction output seen over the last month is likely a result of a combination of factors. Access to materials and labour remain key issues for the sector. Many housebuilders are struggling to get hold of the materials they require, either because larger firms are stockpiling supplies or because they are simply too expensive to purchase as prices continue to rise. This is partially as a result of the pandemic limiting supply over the last 18 months, but also down to the realities of Brexit, which has stretched supply chains and reduced the workforce in the UK.
"Along with incredible sustained demand from buyers and the likelihood that interest remains will remain low, these shortages are part of the reason we forecast house prices continuing to rise strongly for the next 12-18 months.
"While these difficulties may present a serious challenge for the construction industry, there is still strong appetite from housebuilders who know they have an opportunity to capitalise on the current dynamics with buyers willing to stomach high prices to secure a move to facilitate their new lifestyle priorities post-pandemic. We expect this trend to continue for some time and that will maintain momentum in construction, even if growth continues to be somewhat dampened by issues with labour and materials.
"However, given the country's chronic housing under-supply we need to pick up the pace faster in the housebuilding sector and find ways for housebuilders, especially SMEs, to move forward with viable schemes despite the financing challenges they face in the current climate. Easy access to funding, often not available through traditional lenders for housebuilding schemes, is crucial, as is the simplification of the planning process. With innovative financing and a less onerous planning system, viability can be improved, making projects more resilient against challenges like those we are currently seeing."
Gareth Belsham, director of the national property consultancy and surveyors Naismiths, commented: "Torrential rain may have dampened the official output figures for May, but there's no doubting the heat still in the construction sector.
"With both demand and sentiment still very strong, few are worrying about the second successive monthly drop in output. April and May's figures are no disaster, but they do look anaemic compared to the extremely rapid growth posted at the start of the year.
"On a quarterly basis the direction of travel is firmly upwards – up 6.3% compared to the previous three months – and total output is still above its pre-pandemic level.
"Within the industry the star performers are infrastructure – now up a fifth on its pre-pandemic level – and private sector housebuilding, both of which continued to expand in May despite days lost to tropical downpours.
"Nevertheless the second stumble in a row shows there is nothing irresistible about the construction industry's sprint. Severe supply side issues are throwing obstacles in projects' path – average wages are rising as contractors fight to lure workers, and material costs are surging as demand far exceeds supply.
"The difficulty of getting hold of key materials like steel and timber risks knocking existing projects off course and is pushing up tender prices for future work.
"But frustrating though these issues are, they are speed bumps for an industry well versed in handling boom and bust. The phenomenal rate of growth seen in the early months of 2021 was always going to be hard to maintain, and overall things are now settling into a better rhythm."
Brian Berry, Chief Executive of the FMB, said: "Construction output fell in May, pointing to a fragile economic recovery for Britain's builders. I am particularly concerned by the drop in repair, maintenance and improvement activities, given the high demand for home improvement works that builders are reporting. Action must taken to address the national building materials shortage, as this is restricting builders' ability to build back better and greener. A recent FMB survey found that 93% of builders reported material price increases in Q1 2021, which is an untenable situation. Manufacturers, merchants and builders must work together to maintain the supply of products to independent merchants so that smaller builders can continue to improve, upgrade and green the nation's homes."
Kevin Tully, managing director of Tulway, said: "The latest Construction ONS figures show that there is certainly cause to be optimistic about the final six months of the year, with our company receiving an exceptionally high number of enquiries in recent weeks, which showcases that businesses are happy to spend money on their infrastructure post-Covid.
"The major projects in the pipeline throughout the country are incredibly encouraging at the moment and with all restrictions set to be lifted in less than a fortnight, I have full confidence that the next figures will be very positive."
Sean Keyes, managing director of civil & structural engineering firm Sutcliffe, said: "The latest Construction ONS figures have left me feeling positive about the long-term future of the industry, with the general curve slowly rising is something that should hold us in good stead going into the next quarter.
"I predict that the UK economy will continue to bounce back especially when all restrictions are lifted on July 19 and despite the 0.8% fall last month, found mainly from a decline in maintenance, we should see strong construction figures throughout the rest of the summer, especially from the public housing sector, which is currently thriving.
"I attended a chat with Lord Heseltine this week, as he spoke of his worries that the Covid blanket hasn't truly been uncovered yet, with a potential for a short-term skills and material shortage. However, I'm seeing plenty of work arising and I'm confident it'll stay that way."
If you would like to read more stories like this, then please click here