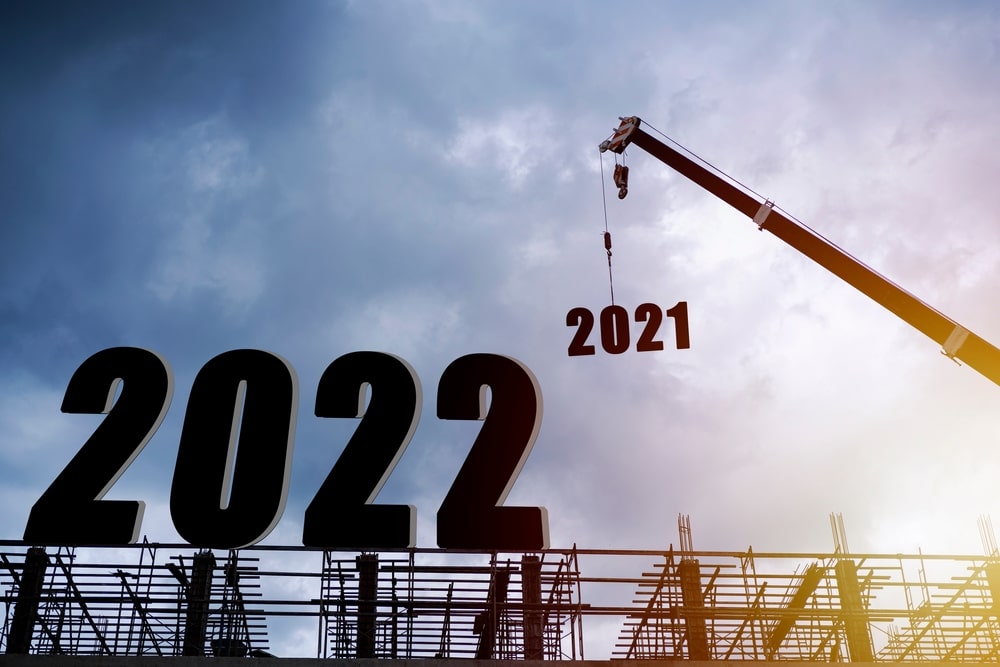 Just like individuals, industry sectors should also set new year's resolutions. Whilst change shouldn't wait for January 1st, the end of a year and the start of a new one offers a good opportunity to pause, reflect and work out how to improve – especially as the world evolves and new opportunities and challenges will arise. And for construction, 2021 hasn't been short of its challenges.
On top of the pandemic, there's been the supply chain crisis, the ongoing work to prevent another Grenfell and facing-up to our climate responsibilities, as highlighted by COP26. These issues won't disappear with the fireworks: the disrupted supply chain, safety concerns and sustainability will be ongoing issues for construction in 2022.
Central to tackling and navigating this all is gaining greater visibility of the construction process, chiefly through adopting new technology. If construction wants to work more safely, sustainably and reliably next year, firms need data-driven oversight of their businesses and projects.
Let's dig into how technology will help the construction industry navigate the three biggest challenges in the year ahead, and turn them into positive opportunities.
Working sustainably
Construction has a heavy carbon footprint: pre-pandemic, building operations and construction was estimated to generate 38% of total global energy-related CO2 emissions. It also has a waste issue, with construction and demolition waste accounting for 25-30% of total waste created in the EU.
If we want to protect our planet, we need to cut both. And the key to this is using tech – specifically data – to gain greater visibility and control over construction processes.
If teams can collect high-quality site data, they can better identify where energy and resources are being used, and spot points of inefficiency and waste. Once they have visibility of the problem, teams can then work out what adjustments or substitutes are needed to conserve energy and materials. And continuing to monitor site activity can let them know if their solutions are a success. Capturing high-quality site data is also essential in making sure teams are in line with environmental industry standards.
Data is also critical in tackling rework in construction, which not only hits firms financially but generates huge amounts of waste. Using forward-looking analytics, construction businesses can identify the areas and processes that are likely to lead to rework, identify why, and take proactive steps to prevent it. Applying AI and machine learning to site data can give firms visibility over the future, not just the present, to minimise the environmental impact of future work.
There's much to explore when it comes to data capture and sustainability – for example, we're seeing the growth of RFID technologies.These have the exciting potential in monitoring the carbon footprint of buildings and materials. But as we innovate in this space, we need to constantly keep in mind the end user. Data can only support sustainability if the tech that captures and analyses it is easy to use: if monitoring tools are too complex, they increase the likelihood of data input mistakes and record gaps, degrading data quality, and teams will also be reluctant to use them. Sustainability is built on visibility but it's the ease of use that supports both.
Navigating supply chain disruption
It's not just sustainability where greater visibility through technology can help. In 2022, it also has a role to play in tackling the challenge of supply chain disruption.
The supply chain crisis created huge upheaval in 2021 and we'll still be experiencing its effects next year. Both the physical shortages and their unpredictability have been a struggle, extending programme times and causing materials costs to rocket: according to the recent BCIS Materials Cost Index, the cost of construction materials has reached a 40 year high.
Again, greater visibility, supported by tech, will be a boon. If project managers can have clear, continuous visibility on when materials are expected and if they might change, they can create efficient project schedules, adjust them where needed and manage client expectations. This is achieved by turning to digital tools like a construction management platform, which establishes strong lines of communication between everyone involved in a project so there are no supply surprises further down the line. And by keeping all project data in one place, it means everyone has visibility on real-time information so no one is basing their work on outdated statistics.
Such technology can also give teams better visibility and control of their financials – especially vital in an economically difficult time where rising materials costs are squeezing project margins. By cross-checking actual costs against predicted costs, accessing real-time labour costing and importing cost codes to create accurate budgets, platforms are the solution. Gaining such market visibility can give firms the ability to make smarter business decisions and can even help mitigate the financial impact of the supply chain crisis.
Improving quality and safety
The third big opportunity for improvement in 2022 is around quality and safety.
The industry knows we can't have another Grenfell. In the post-Grenfell era, quality and safety continues to be a key challenge for construction and strict adherence to CDN regulations and safety standards, such as ISO 90001 and ISO 450001, are paramount.
Keeping to these regulations – and proving that you are – is another area where complete, real-time visibility is crucial. Companies need data to check they're abiding by safety regulations, spot where they could veer off track and prove their compliance to auditors.
Here's another opportunity for construction to embrace and develop innovative new tools to improve the way we work. Switching from manual compliance processes to digital tools and self-documenting construction platforms gives teams instant, accurate visibility of project safety measurements, so firms can make sure they're meeting all their safety targets. It additionally ensures everything is in place for auditors, meaning a business's upper management doesn't need to take weeks off before a visit and get their safety paperwork in order. A project platform also helps in creating and adjusting ITPs, again ensuring teams aren't stuck in data silos and everyone is working with the latest information.
This has been the experience for many, such as Henry Boot Construction. It is certified to ISO 45001, ISO 14001 and ISO 9001 standards, a key differentiator in UK construction, and a testament to Henry Boot's commitment to effective risk management practices. Thanks to using a construction management platform, their occupational health & safety, environmental and quality management systems are accredited to the international standards required for the certification.
If construction wants to meet the challenges and utilise the opportunities of 2022, it needs to make some new year's resolutions. The biggest should be improving project visibility. Greater transparency and high-quality site data crucially gives construction businesses and workers more control and it's this control that's essential to working more sustainably, improving safety and navigating the supply chain storm.
Article submitted by Tom Noctor, Team Lead, Strategic Product Consultants, Procore